Hemingway's Paris
Paris, France
Forty years before Dan Brown directed masses of Robert Langdon wannabes to the Louvre and St. Sulpice, another American author wrote controversially and compellingly about unknown Paris society. Instead of vilifying the Catholic church, Ernest Hemingway outed F. Scott Fitzgerald and Gertrude Stein.
A Moveable Feast
, Hemingway's account of being young and broke in Paris, was published three years after his 1961 suicide.
But the years the book covers are 1921-26 so I wondered if Hem's Paris was just water under the Pont de la Concorde.
It was during those lean years—when Hemingway was in his early-to-mid twenties—that he wrote his first novel,
The Sun Also Rises
. He didn't write it at La Rotonde or La Domes where many of the day's fashionable writers sipped
crème cafes
because, Hemingway wrote, people were there "to be seen publicly." Instead he worked at La Closerie des Lilas, the quieter café down the street where "no one was on exhibition"
La Closerie des Lilas thanks Ernest dearly because today it can charge $6.60 for a
café crème
, while the chairs at La Rotonde and La Domes—still facing the street for maximum see-and-be-seen effect—are mainly empty. The $53 prix fix dinner at La Domes is actually cheaper than it's counterpart at La Closerie.
La Closerie's brochure quotes liberally from
A Moveable Feast
but ignores Hemingway's primary endorsement.
"Have things really changed since the twenties?" the brochure asks, suggesting the café has always been a place "to spot celebrities and enjoy a fleeting flutter of recognition."
If the café is home to some displaced nostalgia it may be because there are so few places to place it. The closest you'll come to Papa's ghost in this neighborhood is to meet eyes with one of the two photos of him behind the bar at La Closerie. He lived a block over, above a sawmill at 113 rue Notre-Dame-des-Champs, but when I walked by to see what had happened to his old address I found it had literally vanished. The street skips from 111 to 115.
He doesn't give an address for the hotel on Rue Mouffetard where he rented a room to work during that time and I couldn't find it as I walked up and down "that wonderful narrow crowded market street." It's surprising since almost every building in Paris has a plaque naming a famous writer who lived there at some point. Such a plaque hangs from 74 rue Cardinal Lemoine where Hemmingway first lived in Paris. On the bottom floor a boutique calls itself
Paris et un fete
—Paris is a feast—apparently hoping that beer-bellied American pseudo-intellectuals will settle on a floral-print dress when they fail to find a museum below Papa's old pad.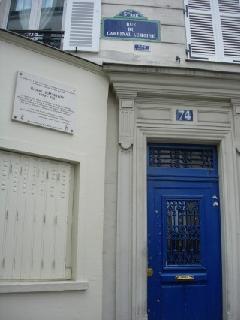 Today the area is home to upscale cafes, budget crepe stands, and tourist-aimed retailers, but when Hemingway arrived in Paris in 1921 and moved into the two-room flat with "no hot water and no inside toilet," he was embarrassed to give his home address to Sylvia Beach for membership in her lending library. The address "could not have been a poorer one."
Beach owned Shakespeare and Company, an English bookstore that underfed Hemingway would devise ways of visiting without passing the sweet-smelling bakeries on the way from his apartment to the store on 12 rue de l'Odeon. Beach became famous herself for publishing James Joyce's
Ulysses
in 1922 out of her small bookshop. Today the shops on rue de l'Odeon generally sell things that are old, expensive, or caffeinated. It's also still a good place to buy books—nine of the 22 buildings on the small street have shops selling books—but not number 12; Shakespeare and Company is now Ann Gerard Creations, a minimalist jewelry shop.
Hemingway knew when he wrote
A Moveable Feast
in 1960 that Beach's shop had been closed by the Germans when they occupied Paris. He knew it because he helped liberate the shop at the end of the war when he was attached to an American infantry division while reporting on the war. But he omitted all that and focused in
Feast
on the time in the 1920's when a group of ex-pat writers—tabbed "The Lost Generation" by Gertrude Stein—descended on Paris and changed the course of English literature. By the 1960's much of that story had already been told but the posthumous publication of
Feast
revealed intimate details of the era—from disclosing Fitzgerald's insecurity with his endowment, to casting doubt on who had come up with the group's name.
In Hemingway's account Stein picked up the name when she was having her Model T repaired. The mechanic didn't meet her standards and when she complained to his boss, the supervisor said to the mechanic, "'You are all a
generation perdue
.'" Stein agreed.
"'That's what you are…You are all a lost generation, exactly as the garage keeper said.'"
Today, Stein's old studio on 27 rue de Flores occupies a neighborhood slightly more sterile but generally indistinguishable from Hemingway's; there's a consulting firm and an internet café in the neighboring buildings. But what has endured is the name she borrowed from the mechanic and used to label the brilliant, bohemian group of Hemingway, Fitzgerald, Joyce and others who grew up between the two World Wars. It's that eight-decade old mystique that still brings so many young writers to Paris, and whether they find magic on the banks of the Seine, for the most part they don't find anything of interest in the addresses that once meant so much.
Assuming a distaste for $6.60
café crèmes
, the best place to find some derivative of what's been lost in the last 80 years is to find the new Shakespeare and Company. Beach never re-opened the shop she was forced to close in the darkest days of World War II but she later turned over much of her library—including her original copy of
Ulysses
—to George Whitman, who owned a bookstore across the Seine from Notre Dame cathedral. After Beach's death in 1962, Whitman re-named the store Shakespeare and Company and today it houses some remnant of what a lot of people come to Paris looking for.
Between the stacks of books are thin, dusty mattresses that visiting writers and backpackers can call home on two conditions: they must work two hours per day in the store, and write an autobiography about their life and ambitions.
"They're young people who want to write and they come to Paris because they dream of Paris at night," Jonathan McNamara, an Irish bookworm who's worked at the store for a year told me over coffee. "They come here and they have no money, they have no job, they just have a passport…They show up and George gives them a place to stay and feeds them pancakes on Sunday mornings…He's basically opening up his house and his bookshop for people to stay there."
"Everybody who travels is indeed in search of something. Now whether its that something that they imagine was there 80 years ago or imagine is there today is impossible to say….Paris has become an archetype, it's this idea of everything that your own home will never be."