Don't Say the "Y" Word
DAY 1 - SYDNEY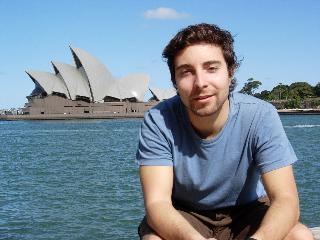 Greetings from picturesque Australia where there are more 'roos than people, more blondes than men, and more beer than water. Or so it seems at first blush, if you're lucky enough to blush just once amid all the blondes and beer.
In Australia they drive on the left, everyone knows that. But you might not know that they walk on the left too, a fact that caused a couple awkward pedestrian moments on the five mile stroll from my hostel in Kings Cross all the way to Northern Sydney. The Cross is backbacker and nightlife central here and you'll never find a description of more than three words that doesn't tab it as "seedy." Think Greenwich Village with hookers.
Door to door it took me 42 hours to get from my parents' place in Rhode Island to the Original Backpackers hostel here. I arrived in Sydney without any accomidations and this being high season there was a nervous moment upon arrival wondering if I'd find a place and realizing just how very alone I am and just how very long a year is. The cure came quickly: an available hostel, a beautiful sunny day, and a resolution to focus on the day or week or month ahead but not the daunting "y" word.
Yes its warm and sunny. Ten hours after touchdown I already have a tan. Yes people are friendly and yes the city is beautiful. I viewed the Sydney Opera House from seemingly every conceivable angle today so I can check that off the list.
You probably not only know about the documentary I'm attempting but have been subjected to my camera accompanied by questions along the lines of "Why don't you come too?" Given the impressive array of reasons all you American working stiffs gave, it was funny to talk to the girl at the travel agency down the street 45 minutes ago. She asked where I was from and I told her.
"Oh, New York. I'm so jealous,," she said. "People come in here everyday and they're from Germany and Canada and the States and here I am. I wish I could get out of here. I'm going to soon."
It all sounded so familiar.
Umm, so just to paint the picture: I'm staying is a big Victonian House turned hostel. My fairly small room accomidates eight and costs $26/night (about $20 U.S.). Right now I'm out in the open-air common space, there's a TV showing cricket, a kitchen, and plenty of tables. Two trees shoot up through the wooden floor and canapy the deck. A little radio plays 80's pop. Are you ready for this? For a while I had free wireless internet out here (though it just went away.)
Well the sun is fading so I best be getting on with my evening.